Dr. Lawrence Lin, MD, FACOG
Introduction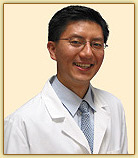 Dr. Lawrence Lin grew up in Southern California, and then completed much of his schooling in the surrounding Chicago area. He earned his undergraduate degree at Northwestern University in Evanston, IL. Then he completed medical school at Rush Medical College in Chicago, IL, graduating with honors in Obstetrics and Gynecology. Following medical school, he completed a four-year OB/GYN residency at University of Illinois at Chicago where he received the Best Laparoscopic Surgeon - Resident Award in 2002.
Then, Dr. Lin furthered his surgical training by pursuing a one-year fellowship in Advanced Laparoscopic Gynecology Surgery in Chattanooga, TN. He won the Laparoscopic Suturing Contest at the annual AAGL meeting in 2002 and he earned his Da Vinci Robotic Surgery Training Certification in 2003.
Afterwards, he completed an additional three-year fellowship in Urogynecology and Reconstructive Pelvic Surgery at Harbor-UCLA Medical Center. In addition to his urogynecology fellowship, he was a clinical instructor, teaching OB/GYN residents advanced laparoscopic gynecologic surgery for three years.
Dr. Lin is board certified in OB/GYN and board certified in UROGYNECOLOGY. He has over 17+ years of surgical experience. Now, he has a private practice in Thousand Oaks, CA, specializing in urogynecology and laparoscopic gynecologic surgery.