Laparoscopic Supracervical Hysterectomy (LSH)
What is the LSH procedure compared to the LAVH (Laparoscopic Assisted Vaginal Hysterectomy) procedure?
The LSH procedure is the removal of the body of the uterus, with preservation of the cervix
The LAVH procedure is the removal of the uterus and removal of the cervix.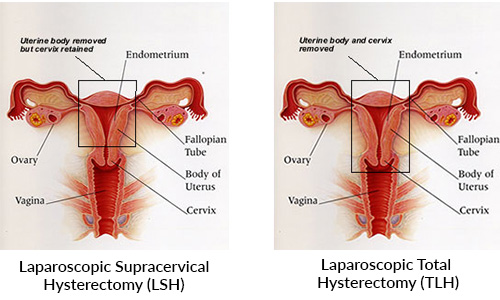 Is the LSH procedure performed nowadays?
Rarely is the LSH procedure performed now. The LSH procedure with power morcellation (in which you grind up a large uterus into small sausage-like strips) is STRONGLY discourage by the FDA since April 2014. The biggest concern is: IF the uterus contains pre-cancer or cancer cells, and the surgeon morcellates the uterus inside the pelvis, then you disseminate (e.g. spread) the cancer throughout the entire pelvis. Then the uterine cancer which was initially contained inside the uterine wall (e.g. Stage I) suddenly becomes severe Stage III – IV uterine cancer, with spread of the cancer in both the abdomen and pelvis.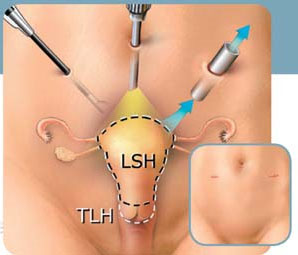 Below is an example of the laparoscopic POWER morcellator. The cervix is saved on the left side picture. The right side picture shows an image of a morcellator. The final result is that the uterus turned into sausage-like strips of tissue.