Laparoscopic Salpingo-Oophorectomy
DEFINITION of Salpingo-Oophorectomy
"Salpingo" or "Salpingectomy" means removal of the fallopian tube. "Oophorectomy" means removal of the ovary. Salpingo-oophorectomy means removal of BOTH the fallopian tube and ovary.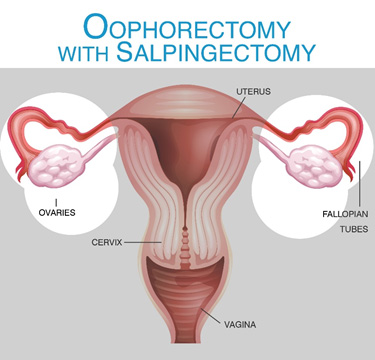 LAPAROSCOPC versus ABDOMINAL salpingo-oophorectomy
The TWO key factors in the decision-making process are:
a. RISK of malignancy. If there is a LOW suspicion for ovarian cancer, then the laparoscopic approach is preferred. If there is a HIGH suspicion for ovarian malignancy, then the patient should DEFINITIVELY see a gynecologic oncologist for further evaluation and surgery.
b. SIZE of the ovarian mass. IF the mass is small (LESS than 6 cm), the ovarian mass can be removed laparoscopically and placed in Endobag, Then the ovarian mass can be extracted through the umbilicus, completely contained inside the endobag with no spillage of content. If the ovarian mass is TOO BIG and there is a high suspicion for malignancy, then the abdominal approach would be preferred to remove the ovarian mass COMPLETELY INTACT without any spillage of the ovarian content.
INDICATIONS for removal of ONE or BOTH ovaries and tube
In general, the goal is ONLY to remove the ABNORMAL ovary. The preferred choice is to save the remaining good ovary. Overall, less is more. You only need one half of one ovary to maintain normal hormonal function Post op recovery.
a. This surgery should take approx. 30 minutes to 1.0 hours, depending up the size of the ovarian mass and the severity of pelvic adhesions (e.g. prior abdominal surgeries leading to scar tissue formation).
b. For a laparoscopic salpingo-oophorectomy, the patient should be able to go home the same day. Full recovery in approximately 2 weeks.
c. The post op limitations from the surgery are:
NO heavy lifting for 6-8 weeks.
Showers only x 6-8 weeks. No baths. No pools, no Jacuzzi for 6-8 weeks.